Ben Baptie Makes Space for a Neve Genesys Console in his New London Studio
Producer and mix engineer Ben Baptie has put a Neve, Genesys console at the heart of Studio 5, his new project studio in North London which officially opened in September after months of intense designing and planning.
Ben chose the console for two main reasons – his general appreciation of Neve's warm analogue sound and his familiarity with its mix bus, which is very similar to that of a Neve VR console. Initially installed as a 24 channel G48 desk, Ben futureproofed his investment by having it built in a G64 frame. This allows him to upgrade his console to a 32-channel G64 by adding eight more channels whenever he wishes. The console's modular design is already proving extremely useful as Ben has recently ordered eight additional channels of digitally controlled VCA dynamics, which will soon be installed on the desk.
"Strongroom Studios in London has been my base for many years and until recently I had a production suite there," he explains. "Whenever I needed to mix, I'd use the VR console in Studio 1, so I wanted something that replicated that sound and that workflow. "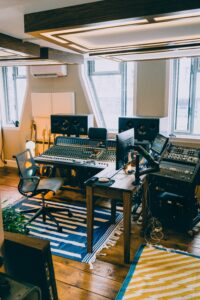 As soon as I saw the Neve Genesys I knew it was right for me. Its mix bus comes from the same family as the VR so it feels very familiar, plus is has a whole host of other features that I love such as true Neve preamp circuitry and really easy DAW integration via the GenesysControl Plugin. I also love its modular design, which means I can expand the console at a later date should I ever decide I need more channels."
As one of the UK's most sought-after mix engineers, Ben's credits include a growing list of critically-acclaimed artists, from Moses Sumney and The Strokes and from Adele to Rex Orange County. His diary is always packed with projects covering a wide variety of genres, so when the Covid-19 pandemic hit he had to act fast to safeguard his future and his income.
"When lockdown happened, I couldn't access Strongroom's Neve VR console for mixing so I thought I'd get a summing mixer and learn to do more 'in the box'" he explains. "But I quickly realised that I didn't want to go that route, which left only one alternative – buying a board and sorting out a place of my own to put it in. I didn't think it would be easy to find a space but out of the blue, I was contacted by Pony Studios in London Fields and offered a room there. Within a couple of days, it was all happening and I just jumped in."
Sound Zero Acoustics helped Ben design the room and Funky Junk sourced and supplied much of the equipment. As well as the Neve Genesys G32 console, Ben has installed ATC monitoring with a Genelec Sub, Antelope Audio Orion converters, and an extensive collection of vintage drum machines, synthesisers and outboard equipment – all of which is located within easy reach of the console and permanently patched-in.
"It took four months to design and build the room but the end result is amazing," Ben says.
"I am especially happy with my Genesys console because it really suits the way I like to work. The automation has modernised my workflow and made life much easier, but it still has all the Neve characteristics that I am used to – it just sounds better and works more fluidly that the Neve VR because the technology has come such a long way since that console was first introduced."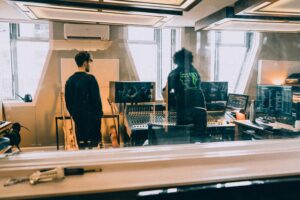 Since completing Studio 5, Ben has mixed a live event featuring Rex Orange County and renowned bass player Pino Palladino and finished a few standalone singles with Moses Sumney. He has other projects on the go, too, but isn't at liberty to discuss them.
"I use commercial studios such as Abbey Road and RAK for larger recording projects, then bring the mix back here," he says. "The audio has translated really well between these various rooms and I'm delighted with how transparent my studio sounds. I do have good monitoring but I also use the headphone output on the front of the Genesys, which is a really useful feature. The VR used to be a pain from that point of view – getting a solid headphone split – but this desk makes it so easy and I really appreciate that."
For information about the Neve Genesys Console, please get in touch with the AMS Neve team at info@ams-neve.com