'Into the Blue' – Neve BCM10/2 MkII makes its Atlanta Debut
Established in 2009 by produce and musician Bill Jabr, Blue South in Atlanta – and its sister studio, Blue West, in Los Angeles – combines high-quality recording equipment with exceptional service to deliver a seamless workflow. Artists such as Childish Gambino, Andre 3000, Juice Wrld, Travis Scott, Summer Walker, Brett Eldredge, and Becky G flock to the studios because they can tap into a truly creative vibe. "We genuinely love and respect all forms of music," says Bill. "Open-minded artists pick up this and I think that's what draws them in."
There is now an additional draw at Blue South because the studio boasts a legendary Neve BCM 10/2 Mk II 16-channel console, which was installed during the refurbishment of Studio A, its premier tracking and live room. We caught up with Bill to find out why he chose the desk and what difference it is making to his staff and customers.
So Georgia now has its very first Neve BCM 10/2 Mk II console – how does that feel?
We love Georgia and we are very proud to bring a piece of recording history to the state. You just can't beat a great Neve board and having the opportunity to work on one every day is a dream come true. The Neve landed in November 2020 and is being used every day. After it was installed, I had the chance to hear some percussions and keys tracked through it and it put a big smile on my face. We plan to keep this Neve forever!
What were your main reasons for choosing a Neve BCM?
We chose the console because it's a classic Neve footprint with a modern workflow. The Neve 1073 preamp/EQ needs no explanation in our world.
When we were researching new consoles, the BCM 16's updated monitor section, direct out, and simple input additions meant that it jumped out as a perfect option because it give us the heavy, rich Neve analogue sound while also providing easy DAW integration for a modern workflow.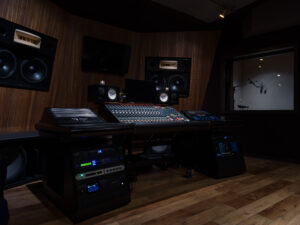 Have you always been a fan of the Neve sound?
Definitely – Neve means so much in the world of music and recording and Neve consoles have a tone that can't be missed. They have a truly unique characteristic that just works on so many applications. You can't mention a legendary recording space without mentioning Neve, which is at home in the best of the best studios – from Capital Records to East-West, to Electric Lady, to Abbey Road etc.
Did the heritage and reputation of the original BCM 10 play a part in your decision to buy this desk?
Absolutely. We wanted to own a console with the legacy from a company that has a reputation for building quality consoles with care.
Can you talk us through your workflow – do you do everything through the desk or do you work 'in the box'?
We use a combination of both. For a more modern workflow we do a lot of summing and splitting mix stems through the console, and then often printing back in to make future recalls easier for remote editing (if needed). This is where the direct outs and simple inputs make life easy.
For tracking, we let Neve handle all of the front end. For me, all I need is Neve to handle front end tracking. The glue and tone running through the console has been delightful. We are using this console as our centrepiece and not a sidecar. Thankfully, the updated design and monitor section allows us to do so.
What benefits does the console bring to your workflow? Is it integrating well with other equipment you have?
To start with, 80% of our clients want to track front end vocals through a Neve mic preamp so we always track through it. It also integrates perfectly with our Apogee mkII and Crane Song converters and we can have the direct outputs normal-ed to ProTools inputs so that mixes can be spread out over the board with ease and with minimal patching. The monitor section is also extremely straightforward and flexible, and we can easily split headphone mixes out through console cues to integrate with our hear-back system.
It's a very ergonomic console – and the EQs are obviously legendary!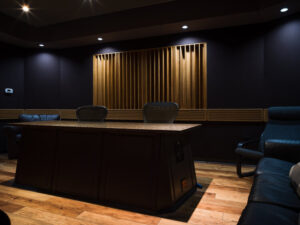 When did you set up Blue South – and how has your business developed over the years?
I set up Blue South in 2009 as a tiny project/production studio in a closet-sized room. Since then, it has evolved into one of the city's premier recording facilities with a sister location, Blue West, in Hollywood, Los Angeles. Having worked in many different studios as a producer/writer and musician, I had very specific ideas of how things could be better and easier. Blue South/Blue Room are my vision of how modern studios should be.
What we have created are spaces where people can cut out any distractions and be solely focused on music and creative endeavour. From the start, we wanted to do something completely raw, so rather than targeting established artists, we target colleges and concerts to find people who wanted to make music with us that was completely outside of our previous music "industry" work. We focus on giving people 100% attention and effort across every project and we are somewhat obsessed with studio service and etiquette.
You mention that you are a producer/writer and musician – what is your background in the music industry?
Music has been a big part of my life since childhood. I started out playing guitar and grew up idolizing the greats like Jimi Hendrix, Django Reinhardt, and Wes Montgomery. I also played in bands and began recording in the garage on old Tascam multi-tracks.
Later, I attended Berklee College of Music and initially pursued performance jazz guitar before friends introduced me to more music production using digital DAWs like Cakewalk and Fruity Loops. Although I continued to perform live, I was drawn more and more into the production side of the business and in 2002, aged 19, I got my first summer internship at Def Jam South/DTP in Atlanta.
I worked hard at my internship duties but as I still wanted to be part of the creative process, I asked my boss to help me and she kindly secured me an internship at Doppler Studios in Atlanta. The moment I started creating in the studio a light bulb went off and I knew that's where I wanted to be. Since then I have done everything from production, studio guitar, studio ownership, studio design, and now mastering.
You obviously have an appreciation for classic recording equipment – why do you feel there is still a place for analogue in our digital world?
I think there is a common misconception about analogue gear being unnecessary in modern recording. While plugins are extremely powerful and useful tools, we are nowhere near being out of an analogue world. The actual process of recording has not changed. We still sing into microphones and strike instruments to play a note, we still mix on channels of sound being layered together – whether that is in an analogue or digital process the actual process itself is exactly the same.
I encourage more young studio owners to consider the direction we've taken. There's a common misconception that some mixing consoles are dated or irrelevant, but that is far from the truth. Companies like Neve have done a phenomenal job at providing an integrated experience in order to make the consoles work easily with a digital rig, even on a purely analogue board like the BCM. The consoles are also much more energy-efficient, and dependable. They've advanced tremendously and would fit wonderfully into any modern digital workflow.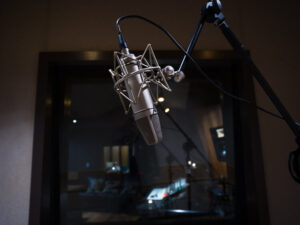 As a studio owner, what role do you feel commercial facilities like yours play in today's world?
I think it's a common misconception that wide access to DAW technology had removed the need for recording studios. That's just not true. It's like saying that Peloton and having a weight room in your house means no one needs a trainer or a gym, or that FaceTime and Zoom have done away with personal contact.
Recording studios and the recording arts will continue to thrive because it is people that make them great – the space and gear and all the new, exciting technology are just icing on the cake. There will always be ups and downs in any industry, but over the long haul recording studios will remain because magic still happens in them.
How have you coped with the pandemic and Lockdown?
We have been very fortunate as we have remained healthy and busy and been able to stay open throughout lockdown, tackling a lot of remote mixing and mastering. But this has definitely been a year like no other and our thoughts and prayers go out to all of those affected by this pandemic and lockdowns as well.
For more information about Blue South Atlanta and Blue West, Los Angeles, please visit www.bluerecorders.com and to find out more about the Neve BCM 10/2 Mk II, please get in touch with the AMS Neve team at info@ams-neve.com