The Art of Sound Exhibition
AMS Neve has opened a huge new exhibition floor telling the story of how the "Neve Sound" has evolved and developed over the past 50 years.
Visitors have the chance to do some "hands-on" driving using the brand new DFC3D complete with 3-D, immersive surround sound demonstration, the complete range of outboard equipment and the best-selling Genesys and Genesys Black consoles – the choice of top artists for their personal recordings.
The "AMS Neve History Wall" charts the company's story and the technical "World Firsts" section sets out the many pioneering and award-winning contributions to the art and science of sound developed in Burnley. The range of Oscar-winning films in which Burnley's sound has featured is displayed, along with a "who's who" of legendary AMS Neve equipment owners from the music industry.
A key driver for establishing the exhibition has been AMS Neve's engagement with Burnley's schools, encouraging children as young as four to become interested in engineering. That programme has now been expanded significantly with the company setting up partnerships with an initial six universities and performing arts centres.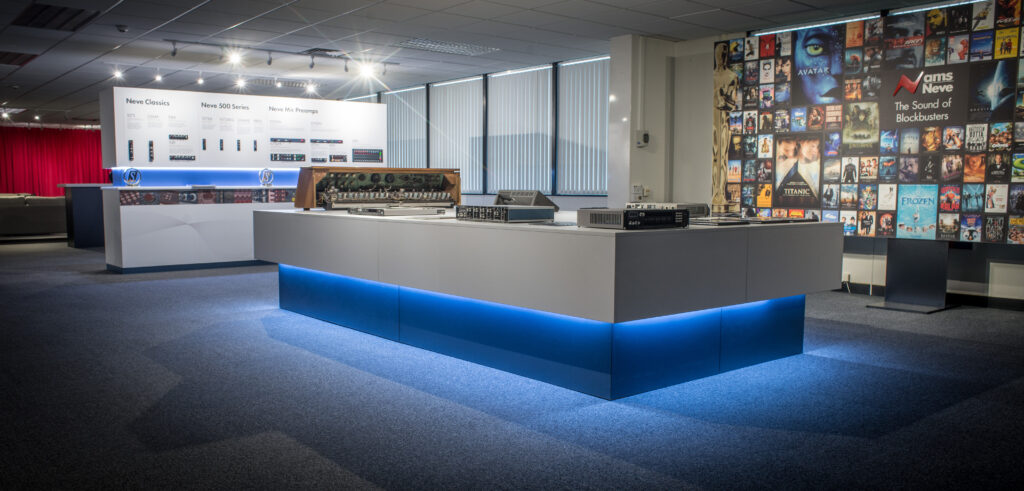 Students on music production and audio engineering degree courses will be offered masterclasses from top designers at AMS Neve, invitations to visit the factory, exclusive student offers and competitions as well as gifts of equipment to the campuses. These include the University of Surrey, dBs Music (Plymouth and Bristol), Spirit Studios (Manchester), SSR (London), the London College of Music, Leeds Beckett University and the Liverpool School of Performing Arts (LIPA).
AMS Neve Managing Director, Mark Crabtree OBE said, "Britain enjoys a high degree of "soft power" around the world due to its pre-eminence in these areas, exporting our culture and expertise to all four corners and AMS Neve is a key player in this digital and creative discipline".
Degree-level students from the music technology and production courses at Leeds Beckett University were very impressed during their recent visit.
Michael Ward and Ben Mosley are the course leaders for music technology and audio engineering. Michael said: "Coming here today is fantastic for the students. It's great for them to see a vibrant industry at work, designing and manufacturing such high-end audio equipment. It shows them what career paths their skills can take them to. We've got good equipment but it's special for them to get to use the big consoles and see them being made.
"Neve are always pushing the boundaries. It may look like the design of the consoles hasn't changed much but everything underneath it has been improved, opening up more possibilities."
Ben said: "Take the Genesys console. It's great for them to see they can use the skills they've developed on something like that. They were hanging back a bit at first from the huge Digital Film Console with surround sound because they didn't want to break it, but later they were playing with it. But it's not just about the big stuff.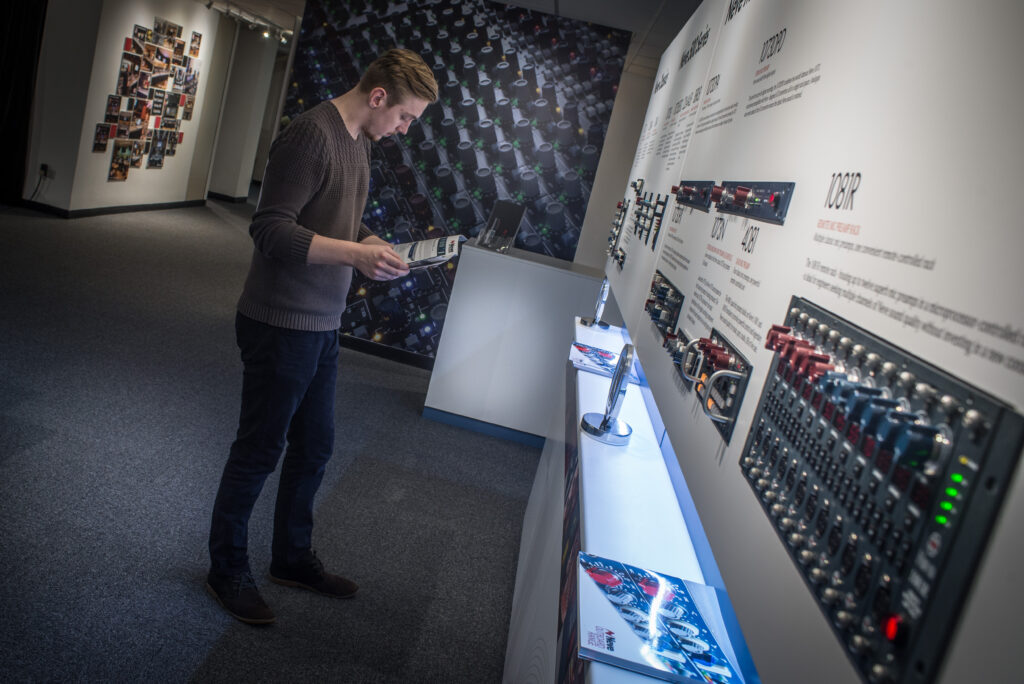 A lot of students do their recording work at home, as do many young musicians, so they've been really interested in the outboard products too. "A partnership like this with AMS Neve, who is right at the top, is very valuable for universities where we live in a bit of a bubble. Here there's something to go and engage with. For us, it inspires the students to tap into workshops and guest lectures".
Dan Larkin and Niall O'Brien-Bird are both second-year audio engineering students. Both said they got a lot out of their visit to the factory and the new exhibition centre. Niall said: "It's really been fun. You get to see top-quality equipment and what's going to be the future of the industry. Just look at the DFC and its 1,000 channels. Neve is number one in the industry".
Dan added: "It's more than that. It sets the industry standard for digital control over analogue circuits. It's the flagship really".
The university partnerships have been welcomed by record producer Steve Levine, former chairman of the Music Producers Guild. He said; "I have my own 30-year relationship with AMS and it is very important that the manufacturers of our tools of the trade engage with the next generation of sound engineers and producers. This will enable the students to benefit and enjoy the rapidly-changing technology and also to understand the history and legacy of recording".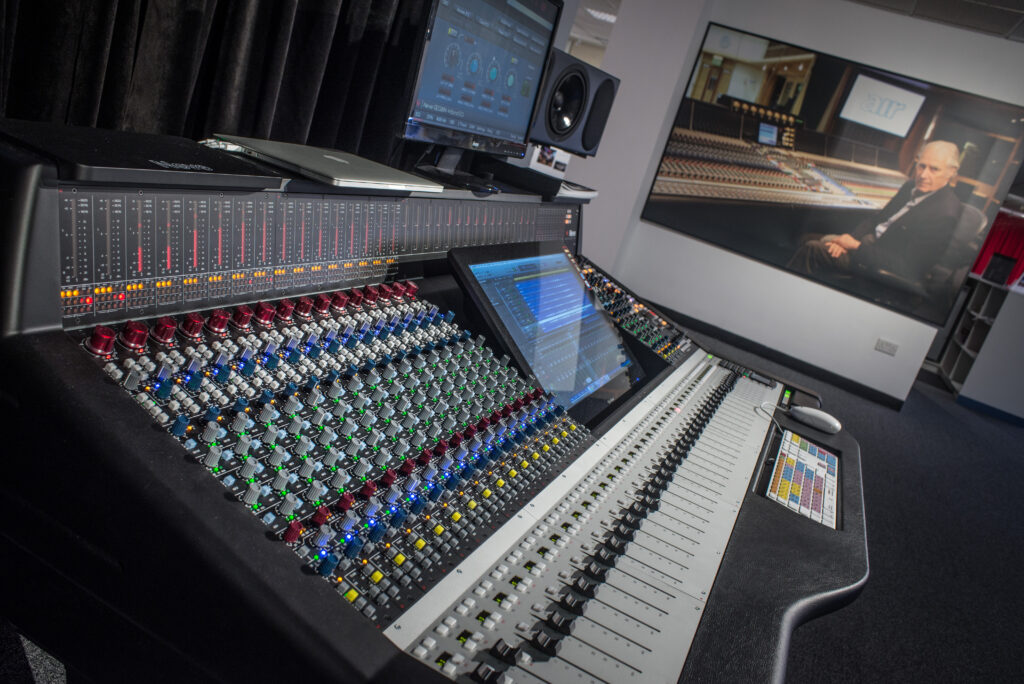 The 5,000 square foot space is multipurpose and has already hosted a talk and conference for 80 members of the Institute of Mechanical Engineers and a fascinating Christmas lecture for Unity College students by Professor Gaydecki of Manchester University on Digital Signal Processing.
To book your visit, please contact marketing@ams-neve.com