Neve Helps Shape the Sound of a Historic Performance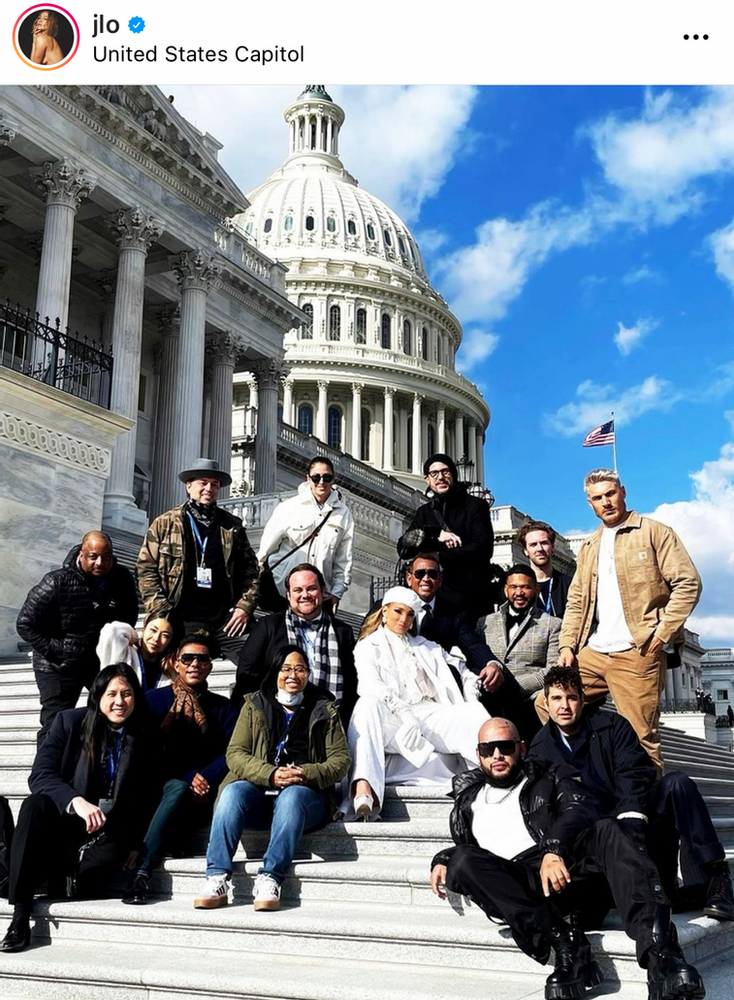 When Jennifer Lopez performed a moving medley of This Land Is Your Land and America Is Beautiful at President Biden's inauguration ceremony, very few of the millions of people watching would have realised that British technology played a key role in shaping the sound they were hearing.
Behind the scenes, in the run-up to the inauguration ceremony, Kevin Teasley, JLo's Pro Tools programmer, music producer and musical director for her It's My Party World Tour, used a comprehensive selection of Neve recording equipment to prepare the pre-recorded music that was vital to ensuring the success of her performance.
"The elevation of the final audio was superb and there is absolutely no doubt that Neve equipment helped us achieve the results we wanted," Kevin says.
"Neve is indeed a real go-to when I work in Live, TV, Film, Records, trailers, promos, broadcast, etc. Basically just about anything that I work on! Neve is included in my workflow on every single project from recording, mixing, and mastering."
Based in Los Angeles, Kevin Teasley is undoubtedly one of the music industry's most multi-talented and multi-faceted creatives. He is a composer, producer, sound designer, programmer and musical director, not to mention the owner and composer of TONIC Music + Creative, a trailer and TV production music company. His credits read like a Who's Who of A-List recording artists and include JLo, Megan Thee Stallion, Britney Spears, Chris Brown, Neyo, J-Rock/Kendrick Lamar, Ciara, Usher, Tinashe, Kelly Clarkson, B2K/Omarion, Flo-Rida, Sofia Carson (Disney), Black Eyed Peas, Jojo, Erika Jayne, Ally Brook (5th Harmony), Katharine McPhee, Icona Pop, Boyz II Men, TLC, Tamar Braxton, Keisha Cole, Why Don't We and The Jacksons, among others.
Kevin's involvement in President Biden's inauguration ceremony came about because of his close working relationship with JLo. When she was asked to perform, her music team immediately got together to help her conceptualise and execute her vision.
"An important part of my role entailed working with all pre-recorded tracks and stems and putting it together into a full performance," Kevin explains "I worked with the creative team, other music producers and arrangers and also managed the final prep of all audio, Pro Tools session/stems, to turn over to the on-site audio and music team in Washington DC."
The Neve units used on this project include the company's legendary 1073 Mic Preamplifiers, a 33609 Compressor Limiter and the 8816 Summing Mixer, all of which are housed in Kevin's studio in Hollywood, CA in the legendary United Recordings Studios on the Sunset and Gower Studios lot.
"When I'm in bigger studios, I run virtually everything (pre-recorded tracks, stems, etc.) through a Neve console," he says, "In smaller workspaces, I run every track and stem through the Neve 1073 pres, and then across the subgroups with the 33609 Compressor Limiter. I then have the track and stems split out to the 16 channel Neve 8816 to be summed back into Pro Tools to be printed."
As stems and tracks can often come from different producers, writers and composers, Kevin finds that running everything through the 1073 helps to ensure uniformity.
"It gives me that consistent, beautiful Neve tone at the beginning input stage," he says. "The Neve 33609 then helps to "glue" all of the subgroups together and the Neve 8816 glues the overall mix together when it's printed back into Pro Tools.
"Oftentimes, on the two insert mixes of the 8816, I put an outboard hardware EQ, colour box (for some sort of harmonic distortion) or parallel compressor on the first insert to blend into the mix. On the second insert, I will put a bus compressor to further glue together the final two-track print.
"Lastly, on the 8816, I use the width knob to widen the stereo field to my taste and that suits the type of track, song and/or performance. This all gets printed back into Pro Tools as a two-track final mix print. I then put some master buss processing on to finalize and polish the final master."
With tight budgets and even tighter deadlines to contend with, Kevin says it is always a challenge to make 'in-the-box' mixes sound as though they have been mixed through a large console.
"The Neve range is the perfect companion to elevate and enhance your sound in any hybrid studio that blends digital and analog," he says. "I am always humbled and flattered when people compliment me and my team and/or ask me how I get the sound that I get. Quite honestly, it is due in large part to the Neve product range. Just running audio through them, with a knob twist here and there, automatically makes things sound bigger, wider and with more 3d depth, as well as adding that classic Neve colour and tone."
Although all the preparation for JLo's Inauguration music was carried out in Los Angeles, Kevin did fly to Washington DC for the actual ceremony so that he could be on-site for rehearsals and her performance.
"There was a live element to this project because we were fortunate enough to have the President's own Marine Corp Band/Ensemble perform live to our pre-recorded tracks," he explains. "It was an incredible moment in my career and one that I will never forget. It is something I will always be proud to have participated in and especially proud that my four-year-old son, Kaiden, can look back and say his father was a part of something historic. Being part of a performance for any inauguration would be special, but this one, in particular, was so momentous that it really made me stop and recognize it as a "top tier" career and personal moment. It feels really great to be included in a relatively small professional circle of people who get to say they have done that!"