Neve's 88RS Scores a Massive Hit with Avatar
Like everything about Avatar, James Horner's Oscar-nominated score is massive. It had to be, not just to keep pace with the movie's spectacular visual effects but to keep faith with its vision of an alien world and an alien culture.
The score combines a full orchestra with synthesised and ethnic music to allow Horner, as he puts it, to 'create a world that uses a tremendous amount of colour – colours that we haven't heard before'.
It took, says score mixer Simon Rhodes, 'months and months'. For Horner that meant setting aside a year and a half during which he lived, breathed and sweated Avatar. Compared with that Rhodes got off lightly: he was in Hollywood (on secondment from his regular berth at Abbey Road Studios) for a mere 11 months. And, as with all the production elements of James Cameron's movie, Avatar's score demanded – and relied on – state of the art technology to deliver the results.
The orchestra was recorded at Fox Studios' superbly equipped Newman Scoring Stage on the Neve 88RS – the ultimate in analogue recording consoles, and the only one that really answers the needs of film scoring.
'It's the best analogue desk in the world – absolutely perfect for the job,' says Rhodes, adding that 'the automation is a lot better than anything else I've used.'
'The 88RSP2 allowed us to be much more efficient – in fact, we couldn't have done it without the Stem Maker'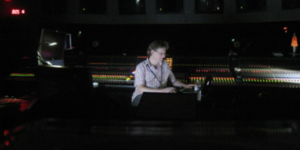 'The very first thing that makes the Neve special is the quality of the sound,' says Denis St Amand, scoring engineer for the project. But as well as the sonic excellence which has seen the 88R become the first choice for music as well as scoring studios, it's the desk's optional scoring features – the SP2 Scoring Panel and Stem Maker, giving access to an unparalleled 132 mix busses in the centre section matrix alone – that makes it ideal for film work.
'Next comes its versatility and especially how much can be recorded at one time,' adds St Amand. 'The 88RSP2 allowed us to be much more efficient – in fact, we couldn't have done it without the Stem Maker.
'This feature is very well put together,' he explains. 'We can make the stems live while tracking – which makes the mixing less arduous. In the old days before we had the dedicated stem mixer facility (which is what makes it a true scoring desk and not quite the same as a music desk), we'd have to do several passes to make the stems.'
With Avatar's tight release schedule, the value of such an efficient workflow is obvious. And being able to deliver multiple 5.1 stems with ease paid dividends in terms of flexibility when the score arrived at the dubbing stage.
After their marathon stint in the fantasy setting of Avatar, it was straight back into the real world for the production team, though for both Simon Rhodes (ensconced once more at the controls of Abbey Road's 88RS) and Denis St Amand (staying put at Fox's scoring stage) that just meant business as usual. The real-world requirements of film scoring – the ability to deliver uncompromised sound quality within a flexible format while meeting stringent deadlines – don't change. It's a view that's shared among all Hollywood's main players, with not only Fox Studios but Sony, Warner Brothers and Skywalker Sound all agreeing that there's only one scoring console that truly meets those requirements: the Neve 88RSP2. 
For information about the Neve 88RS console, please get in touch with the AMS Neve team at info@ams-neve.com