Neve 88RS for Top American Conservatoire
The Peabody Institute, America's longest-established academy of music, has purchased a Neve 88RS console for its main recording studio. The 48-fader Neve, including remote patchbay, motorized faders, Encore™ and Total Recall™ software and a 4-cue mix panel, replaces the Institute's existing Sony Oxford.
Founded in 1857 by the philanthropist George Peabody to encourage cultural studies among the citizens of Baltimore, the Peabody has seen such luminaries as Igor Stravinsky and Ralph Waldo Emerson delivering lectures. Since 1977 it has been part of John Hopkins University, one of the USA's top ten academic establishments.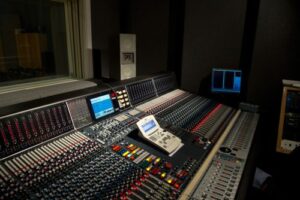 Despite its classical roots and a classical heritage notable in the design of its famous library (pictured), the Institute has moved with the times. The current syllabus covers everything from baroque oboe to computer music and, of course, recording arts and sciences – hence the need for a console that offers the ultimate in both quality and facilities.
"There are not a lot of large-format consoles available right now to choose from," says Scott Metcalfe, director, Recording Arts and Sciences. "After careful consideration, we decided that replacing our Sony Oxford console with something analogue would solve a variety of problems for us, and offer the most flexibility for teaching and recording the wide range of music styles we see throughout the academic year.

"We also considered the Vision from API and Duality from SSL," Metcalfe adds.
"Both are great options and were given serious consideration but the 88RS stood out as a no-compromise console that would provide exceptional sound quality and reliability whether we are recording a large classical ensemble, chamber group, jazz or rock."
The console has now shipped from Neve's headquarters in Burnley, UK, for onsite commissioning and testing, and is expected to be fully operational by the beginning of November.
"Our Studio A, where the 88RS is the centrepiece, sees extensive use through a season that includes over 1000 live concert recordings and countless sessions for student projects and for-hire bookings," says Metcalfe. "I anticipate the 88RS exceeding our expectations."
For information about the Neve 88RS console please get in touch with the AMS Neve team at info@ams-neve.com