Producer Thai Long Ly adds a

Neve 1073DPX to his Recording Rig
Producer and engineer Thai Long Ly has increased the flexibility of his mobile recording rig by investing in a Neve 1073DPX dual preamp/EQ. With this versatile unit in place, he can now track and mix projects with ease. 
Since 2018, Ly has been the official recording engineer for Postmodern Jukebox (PMJ), a musical collective that reworks popular modern music into different vintage genres, in particular swing and jazz. The collective regularly releases new videos on its YouTube channel and has now amassed over 1.4 billion views and five million subscribers. 
Prior to the COVID-19 pandemic, Ly was based at Bell Sound studios, a commercial facility in Hollywood, California. But during the COVID-19 lockdowns, the studio switched its focus to recording voiceovers and ADR, which forced Ly to relocate his equipment to his own home. 
"I have a large mobile recording rig and passport at the ready so I can go anywhere I'm needed," he explains. "With my current set up I am mainly mixing – I don't do much tracking here, just the occasional vocal or instrument overdub." 
Adding a Neve 1073DPX was a crucial step, as Ly explains: "I already had 26 channels of various mic amps in the mobile rig, but I wanted to incorporate the fatness and warmth of Neve's 10 series circuits into both of my setups so I could use them for tracking and mixing.
With a pair of LINE INS, the 1073DPX is the perfect solution because it gives me two channels of the classic 1073 sound with *that* EQ, all in a two-space rack. And for just $3,000 USD it was a total no brainer." 
As a bass player, Ly says he is very sensitive to low frequencies and the impact they have on depth.  
"The DPX always nails it," he says.  "With the high shelf, you can dial in the right amount of air and presence, without any spiky nonsense. Subtle broad cuts with those sweet midrange bell curves creates clarity while still retaining tone.  The front panel DI means I don't have to crawl around for a direct box, and the independent masters allow me to smash the inputs hard while still maintaining proper levels to tape. The build quality also feels chunky and the layout is logical – everything I expect from a Neve." 
Ly adds that if you took five racked channels of vintage 1073s and added five channels of DPX, you'd be hard pressed to pick them apart, especially in a mix. "Plus, the new ones have a warranty, the caps are fresh and the pots aren't scratchy," he says.
"I absolutely love the unit and it sounds so good that I'm about to order another 16 or so channels to use with PMJ." 
Ly's 1073DPX is not his first Neve purchase – he became a Neve fan in 2008 when he bought an 8816 summing mixer for his original home studio.  
"I started off working In The Box but went hybrid when I bought my 8816 summing mixer," he explains. "When I began working at Bell I used their Neve 8232 console and sent everything through that desk. This made for some incredibly fat mixes but it wasn't sustainable as I got busier and busier.  I couldn't leave a mix up for days on end, waiting on client's notes and tweaks when I had sessions backing up, so I reverted to ITB out of necessity, but immediately hated it. I was working too hard for the separation and depth I was accustomed to but could never really get in the digital domain. This led me to a hybrid setup where I'd zero out the board and push stereo pairs through from Pro Tools.  Recalls were super easy as I'd only have to keep notes on the 2 bus chain and more importantly, I could continue to double and triple book my days." 
Now that Ly is mixing from home, he is 100% hybrid and has racks of outboard feeding his summing mixer and tethered to two 96 point TT patchbays. 
"I know mixing ITB is simpler and plugins have come a long way but I still prefer the sound of electrons cruising through a vacuum along a circuit or the sweet mojo a transformer can inject," he says.  "I consistently feel and hear the difference a nice discrete signal path makes over a digital one and plan on staying analogue hybrid for as long as I can. It's more satisfying to crank a knob than a mouse, and I much prefer the workflow. Plus, it just sounds better." 
Originally from Northern Virginia, Thai Long Ly moved to Los Angeles in 1992 and played bass in various rock, pop and soul bands. He also opened a high-end bass boutique called the LA Bass Exchange, which he ran until 2002. His move into production came about when he started writing and producing with US stage actress and voice-over artist, Caren Lyn Tackett (nee Manuel).  
"I started with ADATs and a Ramsa digital mixer and relied on several mentors (Erik Zobler, Al McKay, Gary Chang, Tony Shepperd and Eleanor Academia) to help guide me through the maze of producing, writing and engineering," he says. "Little did I know this experience would lead to a full-time career." 
Over the years Ly has worked with some of the best in the business including George Duke, P!nk, Dionne Warwick, Stanley Clarke, Johnny Mathis, Vinnie Colaiuta, Thundercat, Kamasi Washington, Elle King and Robbie Williams. He is also an active member of CAS (Cinema Audio Society) as a post-production mixer and sound editor, handling projects for film and TV. 
Ly's involvement with PMJ came about when he was approached by PMJ founder Scott Bradlee and asked to record the group.  
"I had no idea who or what PMJ was and nearly turned him down, because honestly, I was dreading the drive from Pasadena to Encino," Ly says. "Plus, I figured I was just subbing for someone and wasn't sure it was going to be worth the effort." 
It turned out to be well worth the effort and four years later Ly has been handling all the band's audio, from start to finish ever since. On the advice of renowned record producer and engineer Eddie Kramer, Ly also takes a camera to every session and is now the band's official set photographer.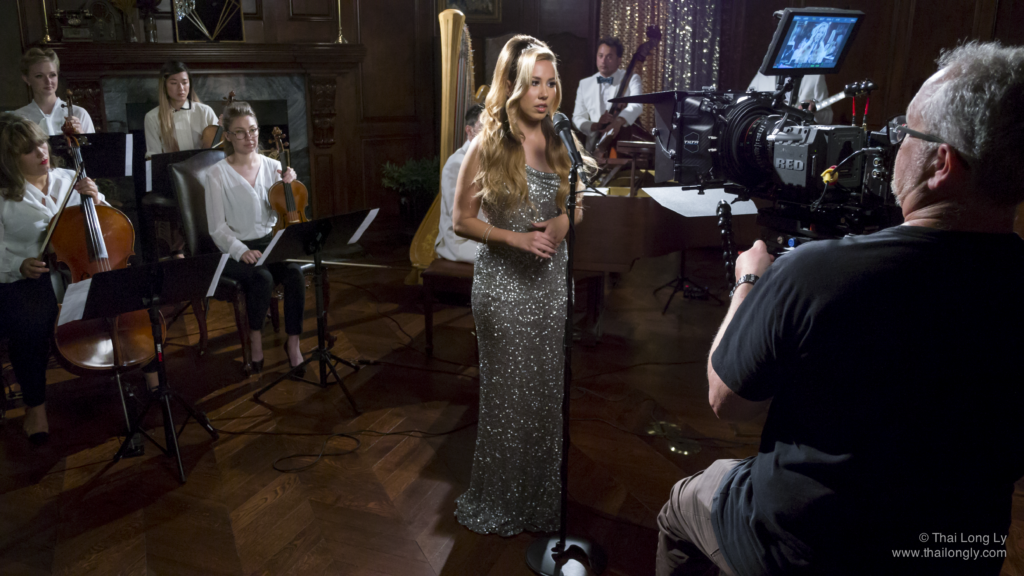 "Every PMJ video is tracked without monitors, without rehearsals and without overdubs. We do everything in two to three hours, including setup and dinner," he says. "We didn't do much recording during the pandemic – just a smattering of videos here and there once some of the lockdown mandates were lifted. However, PMJ has just completed its first tour since the lockdowns and is gearing up for months of national and international dates for 2022. We are also ramping up for another season of videos and there should be some really fun projects coming through soon." 
Ly is also working with other artists and has just completed a new record with Robbie Williams, which is due out later this year. "More than half of the vocals were cut through a vintage pair of racked 1073s," he says. "Needless to say, it sounds pretty fantastic." 
Other projects include producing and final mixes for bassist Hadrien Feraud's upcoming release; soundtrack post-production for a film made by international touring group Snowapple; recording live videos for the rock/pop group East of June, headed by former original Incubus bassist, Alex Katunich, and co-writing and producing a project for an LA-based Slovenian born artist, Katja Koren. All of these projects involve Neve equipment in one form or another because Thai Long Ly is such a fan of the Neve sound. 
"The first time I ever recorded through a Neve, I was blown away by the depth and punch and the sound. Drums had power and impact.  Vocals had heft. Guitars had balls. Bass was glorious and perfect.  I had never heard raw tracks sound that huge before and I understood right then and there why everyone aspired to a Neve.
That tone never leaves your head, and you spend the rest of your engineering life looking to feed your ears. I've since considered Neve to be a vital part of my musical identity, a part of my sonic family, and I still feel like a kid staring at his first BMX bike whenever I'm in front of any Neve console."
For information about the Neve 1073DPX and 8816 Summing Mixer, please get in touch with the AMS Neve team at info@ams-neve.com