Super Producer Lil' Ronnie Chooses a Neve Genesys Black Console for his new Studio Complex
Multi-platinum music producer and songwriter Ronnie Jackson has made a Neve Genesys Black G16 console the centrepiece of a new five studio facility he recently opened in Georgia, USA.
Jackson, known in the music industry as super producer Lil' Ronnie, is currently building an entire production facility on 100,000 square feet of land in Alpharetta, Atlanta. The five audio studios are already up and running. Still, eventually, the complex will also house rehearsal halls, post-production studios, edit suites, sound stages and facilities for people to shoot video content for YouTube.
Lil' Ronnie chose a Genesys Black console for the main audio studio because he wanted a Neve as the facility's centrepiece. As the remaining four studios are equipped for 'in the box' workflows, the Neve console, supplied and installed by pro audio specialist Vintage King, gives producers and artists access to a hybrid workflow as it offers 24 faders, 8 analogue channel and an integrated DAW display.
"I wanted a Neve desk because I love the iconic sound of Neve's analogue equipment and have Neve 1073 preamps in all of my racks," Lil' Ronnie says.
"I decided the Genesys Black was the ideal choice because it delivers the look and feel of a traditional analogue console while also offering digital control and easy integration with DAWs, which suits people who like to work 'in the box'. It is the perfect hybrid console – the real New Age deal – and it also has the advantage of a relatively small footprint, so it doesn't feel overpowering in the studio space."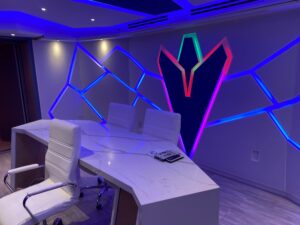 Originally from Kansas City, Lil' Ronnie discovered his love for music – particularly music production – at a very early age. He attended a performing arts school, learned how to make music on a computer, and sold beats before he even left high school. He was eventually signed by Jermaine Dupri and Soso Def and went to work with the Underdogs production team in Los Angeles. Since then, he has worked worldwide and has successfully achieved his early goal of having a hit record in every genre. Among the artists he has collaborated with, many top international names include T.I., Bow Wow, Britney Spears T-Pain, Usher, Mary J. Blige, Ciara, Reuben Studdard and Scott McCreery.
Lil' Ronnie's new studio complex – named Einnor, which is Ronnie spelt backwards – reflects the top league he operates and has been specifically designed to cater to a 5-star clientele.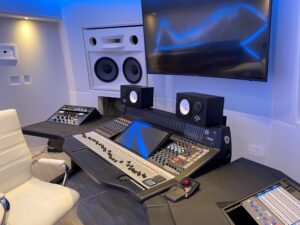 "I wanted to create a place that was comfortable and very high end," Lil' Ronnie says. "I travel a lot, I have a nice car, a nice home, and I stay in plenty of nice hotels, so I wanted my studios to offer the same level of service that you would find in a St. Regis or Ritz Carlton. At Einnor, we have butler service and a 24-hour liquor license, as well as a gym on-site in case people want to work out. We've also made sure the complex is creatively inspiring, so we've avoided all the wood and darkness that you usually find in studios and instead gone for a cool, contemporary look with lots of white walls and LED lights."
With Einnor's Neve room now open for recording and mixing clients, Lil' Ronnie focuses on the next stage of the project, including completing a Dolby Atmos mix room.
"There is still work to do to finish the whole complex, but the Neve room is finished, and it sounds great," he says. "I really love the Genesys Black console, and I think it is going to appeal to a lot of different people, from those who love analogue right through to the big-name mix engineers who do everything 'in the box'."
For information about the Neve Genesys Black console, please get in touch with the AMS Neve team at info@ams-neve.com