Sounding Great in Las Vegas with a Neve Genesys Console
Recording and live sound engineer Rick Camp has a credit list that covers some of the biggest names in the music industry. For more than 40 years he has tackled live and studio engineering projects for artists such as Earth, Wind & Fire, Destiny's Child and Beyoncé, Natalie Cole, Burt Bacharach, Kelly Clarkson, Fantasia, Jennifer Lopez, Mary J. Blige, Chris Brown, Kenny "Babyface" Edmonds, Brandy, and New Edition.
Currently living in Las Vegas where he set up home in 2003, Rick has his own studio and post-production facility and also operates Master Mix Live, an audio school that teaches studio, live and broadcast sound engineering techniques.
Rick's studio is equipped with a Neve Genesys G64 console that he originally installed in a studio owned by Walter Orange, lead singer of The Commodores. Walter kept the console for several years before decommissioning and storing the console.
"When I started Master Mix Live, I bought the console from Walter and shipped it to Las Vegas where it has been installed in my studio for the last five or six years. It is a great sounding' desk that copes with everything we throw at it." Rick explains.
Rick adds that he especially likes the console's ability to integrate with Pro Tools.
"It fits perfectly with my workflow because I tend to mix Pro Tools projects via one-to-one signals that are fed directly from Pro Tools to individual channels on the console," he explains.
At the start of 2020, Rick added Dolby Atmos immersive audio mixing capabilities to his studio by boosting his existing Genelec 7.1 system with K-Array Kayman and Python speakers and ISP Technologies' XMAX subs. The system is now a certified Dolby Atmos 7.1.4 spec, and he is running Pro Tools Ultimate 2020.11 on one Mac pro computer and Dolby Atmos Mastering Suite software on another Mac pro/12 core computer.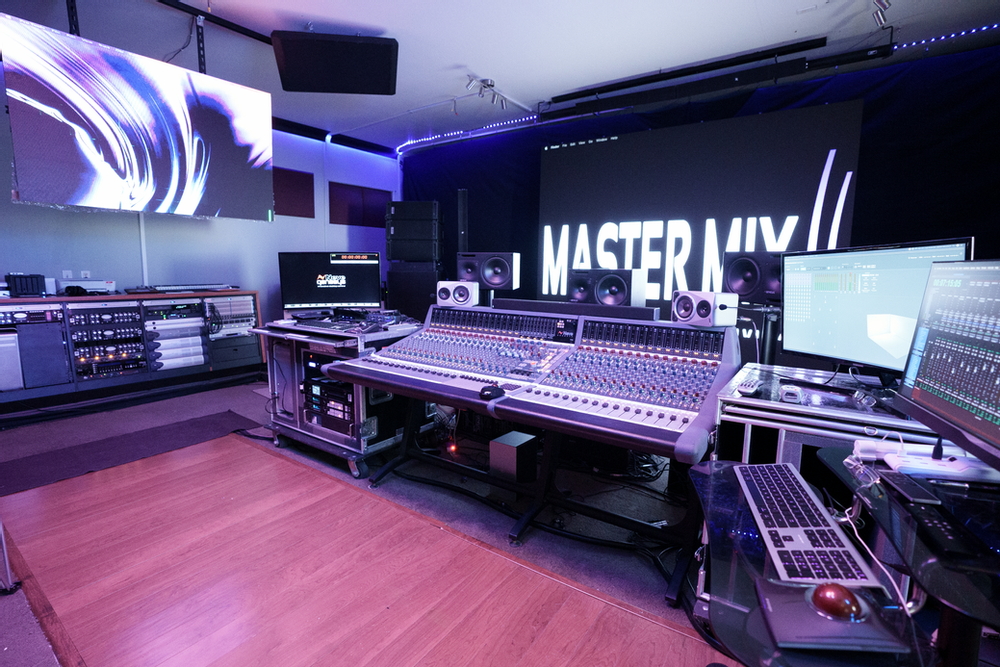 Rick's Dolby Atmos upgrade coincided with the start of the Covid-19 pandemic, so having more time on his hands has given him the opportunity to really get to grips with mixing in this format.
"I suspended all in-person teaching at the start of the pandemic and mandatory lockdowns," he explains. "Instead, I've been tackling a number of Dolby Atmos immersive audio mix projects and some recording, including a personal endeavour that's slated for release at the end of 2021."
Rick's Dolby Atmos system requires DANTE or MADI signal transfer, so Rick is thinking of upgrading the desk with MADI options so that he can integrate it into his Dolby Atmos in the workflow.
For information about the Neve Genesys Console, please get in touch with the AMS Neve team at info@ams-neve.com