The Village Studios Embraces the future with a Neve Genesys Black Console
The legendary Village Studios has stayed true to its long-time allegiance to Neve technology by installing a Genesys Black GB96 console at its West Los Angeles premises.
This celebrated facility, which over its 52 year history has played host to many of the world's most famous recording artists, recently converted one of its private production suites into a stunning new studio for T Bone Burnett, Mike Piersante and Zach Dawes. The three will equally share the space for common and solo endeavours, and when they are busy elsewhere the Village will use the room for its commercial clients.
At the heart of this new studio is the massive Genesys Black console – one of the largest to be installed anywhere in the world. With 64 faders and 48 analogue channel strips, the desk mixes 32 channels of vintage 1084 Neve EQ with 16 channels of contemporary 88R-style 4-band EQ to create an exceptional console that is truly one of a kind. This mammoth console was also delivered with Neve mastering-grade AD/DA MADI conversion cards across every channel, delivering internal AD/DA conversion for 48 channel direct outputs, channel digital line inputs, and digital monitor returns over optical MADI connection.
Jeff Greenberg, who has owned the Village since the mid-1990s, describes the Genesys Black as the ideal console for today's world.
"It is a fantastic compromise between old and new ways of recording because it delivers the great analogue sound of Neve, while easily enabling modern hybrid workflows,"
he says. "It is also a perfect complement to the Neve consoles we already own, which include our much-loved vintage 8048 in Studio A and two Neve 88R consoles with full Mix Recall in Studios B and D."
Initially built as a Masonic temple in the 1920s, the instantly recognisable building that houses Village Studios retains many Masonic characteristics including original stained glass windows. During the 1960s the building acted as the West Coast headquarters for Maharishi Mahesh Yogi's Transcendental Meditation, before being transformed into a recording studio at the end of that decade. Among the artists who have recorded at the Village are Fleetwood Mac, The Rolling Stones, Pink Floyd, The Doors, Elton John, Diana Ross, Courtney Love, The Smashing Pumpkins, Lady Gaga, Bob Dylan, Dr Dre, Steely Dan and many more.
As well as four main commercial studios, the facility also has a large Auditorium and the Moroccan Room (formerly the old Masonic Meeting Room), which are used as live and concert spaces. Spread throughout the building are various production and writing suites that are occupied by an eclectic mixture of artists, producers and composers who like having their own space within this extraordinary complex.
The new studio for T Bone, Mike Piersante and Zach Dawes is housed in one such suite, as Studio Manager Tina Morris explains: "The suite was previously occupied by John Alagia who had it for about 16 years. He had it set up with Pro Control and it was completely digital with the exception of a complement of outboard gear. The space consisted of a control room and an isolation booth, both of which we incorporated into this refurbishment.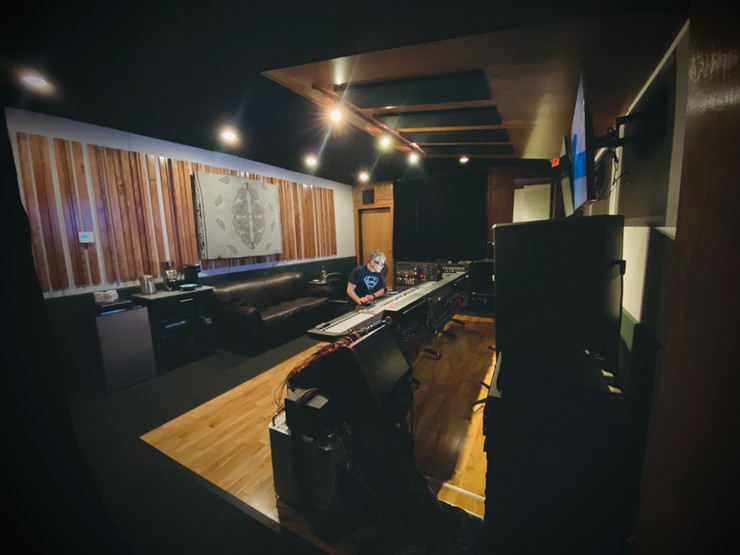 "We spruced it up with new acoustic treatment advised by George Augsberger and, of course, the new Genesys Black console. It is a dual-purpose room for mixing and recording, and we have added tie lies to the Moroccan Room so that it can serve as a control room for that multipurpose room when it is available. This is ideal because it is literally right next door to the Moroccan Room and having the analogue aspect of the Genesys Black console, as well as its integration with Pro Tools, is a great addition to the facility."
The specification of the new studio was very much a joint effort between Mike Piersante and Tina Morris, as Mike explains: "Tina and I consulted regularly on every small aspect of the space and all technical aspects because, in essence, we wanted this to also be a 'Village' room. On that basis, I thought both factions should have input into the design and equipment."
T Bone, Mike adds, was happy to leave the technical specifications to his long-time collaborator, but he did get involved in the aesthetic aspects of the room as he has great sensibilities in this area.
Jeff, Tina and Mike all agreed that a Neve Genesys Black console was the perfect choice because it afforded a modern production style when that was required.
"Right from the beginning, my thinking was to have a console with vintage qualities but also one that would bring the room and the Village a step into the future," Mike says. "The Genesys was always my first choice for this particular space."
Tina adds: "Once it was presented to us as an option, we were 100% on board. The Village has always been a Neve facility with our Vintage 8048 and two 88R's. I think the only debate was whether we should go with the Black or with the regular Genesys."
As well as its ability to deliver a hybrid workflow, Mike says the warm, open sound of the Genesys Black was a major selling point.
"The sonics of the analogue path, combined with vintage reissued preamps and EQs, is a feature we all love," he explains. "This desk delivers a lot of flexibility and gives us options we didn't have at the studio we co-ran in the past."
Mike has added to the equipment list by bringing in a vast array of vintage and modern outboard equipment from the likes of Neve, Manley, Universal Audio, Empirical Labs, Teletronics, Alan Smart, GML, API, Retro Industries, Altec and others. The studio has also been set up to handle Dolby Atmos mixing, with a monitoring system that delivers full immersive audio.
"We have been working with Dolby for a couple of years to try and figure out a good room to make into our Atmos room, but all of them were too in demand to designate for that purpose," Tina says. "When we started renovating this room it seemed like a good fit, so we went ahead because we finally had a space that was large enough to install an Atmos monitoring system."
With the desk now installed and the room finally completed, the entire team behind this project are delighted with the end result.
"We are just so excited to add yet another addition to our family of Neve consoles," Tina says. "I personally have grown up with Neves from the very first studio I worked at professionally. To be able to put a modern Neve console in our ever-expanding and updating studio is just really special to us."
For information about the Genesys Black console, please get in touch with the AMS Neve team at info@ams-neve.com