Rocking the Charts with Neve
Robbie Williams' latest album, XXV, broke records in the UK when it shot straight to the top of the charts, making him the solo artist with the most number-one albums.
The production team who worked on the album included Music Producer and Audio Engineer, Thai Long Ly, who has opened up about how he created the successful album with the Neve 1073. His introduction to the unit came from various studios in LA, which were equipped with 80 Series consoles packed with Neve 1073s or 1084s. Thai says
"Once I understood what I was hearing and how to gain stage for the amount of character I was after, I realised nothing else does what a 1073 circuit does".
The 1073 uses a discrete class-A circuitry throughout which is entirely free from crossover distortion and produces a subtle warm and musical analogue hue to any line or microphone source. For XXV, Thai used two channels of Neve 1073 as part of a signal path to track half of the album, and he claims that the results speak for themselves.
Thai explains "The 1073 has a richness and roundness that really pairs well with Rob's inherent gravel and texture. Plus, they're great at handling his extreme dynamic range.
"His vocals come out large and clear with no sibilance, and they capture his low end with authority".
He adds "Working with Rob is a real treat; I was recommended to work with him a few years ago on a project and I'm honoured he keeps calling me back".
Typical recording sessions for Robbie Williams and Thai are quite simple, and they may only require a couple of takes per song. He says
"We've developed a good communication system while tracking, and we're able to capture great performances in an efficient manner.
"The sessions are always respectful and low-key, and good people surround him. I enjoy it because he's real".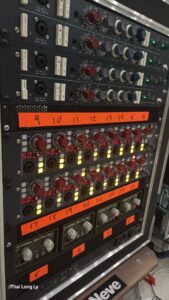 Thai favours analogue gear, using it as the center of his tracking and mixing workflow, and there is rarely a session that doesn't involve Neve equipment.
On other sessions he uses the custom Neve 8078 or 8028 consoles at EastWest Studios in Hollywood, California, and personally owns the Neve 1073DPX and 33069/N.
Additionally, his two Neve 1073OPXs, two additional 1073DPXs and one 8803 will be used in the PMJ Nashville studio for all Postmodern Jukebox videos starting in the spring of 2023.
"The Neve sound is the sound of a finished record. It's only when you start to push the inputs and drive the circuits that you find out what separates the good from the greats. This is where all the character and tone live, and this is where Neve begins to shine".
For more information about the Neve products, please get in touch with the AMS Neve team at info@ams-neve.com